Choosing a Wood Species for Your Furniture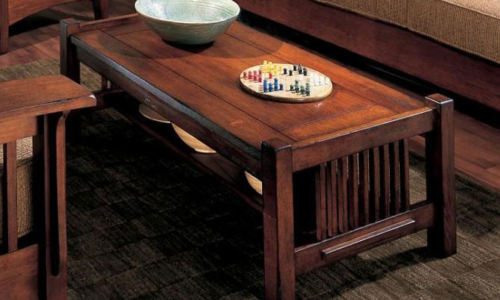 There are several hardwood species used to make quality wood furniture. The most common are oak, cherry, and maple. For years, consumers wanted wood without "imperfections" like knots, worm holes, or sap pockets. Today, these imperfections are appreciated by consumers because they give the wood additional character. They are referred to as "character grades." These woods are also less expensive. Many times, you can step up to a more expensive species when you choose these character grade woods. In addition to the traditional species, there are other woods you may find perfect for your next purchase. Here's a rundown of some of the popular choices available, starting with the most common species.
Oak
Oak has been used for centuries because of its strength and beauty. The wide grain is something you can feel and admire. The most common oak is red oak. It is plentiful and is among the most affordable. It continues to be the most used hardwood to manufacture furniture.
Cherry
For years, cherry has been used to make classic fine furniture. Cherry has an upscale look and feel. The tight grain allows cherry to finish with a smooth glass-like texture. The cost is about 40% higher than oak. Today, buyers can choose character grades and pay about the same as you would for oak.
Hard Maple
This is one of the hardest hardwoods available. It is actually 50% harder than red oak. This makes hard maple a great choice for furniture that is going to receive a lot of use, like dining tables and flooring. Hard maple is very dense. The grain is tight and subtle. It is a higher priced wood species, but the benefits may make hard maple the perfect choice for you.
Brown Maple
This is a relatively new wood used to make furniture. It is a hardwood with a tight grain, and when finished, looks very close to cherry. This is one of the reasons for its recent increase in popularity. To the casual eye, most people would not be able to tell the difference in brown maple and cherry. You can purchase brown maple furniture for about the same price as oak.
Wormy Maple
Wormy maple is a softer wood. It is often used to accent a piece although it is not uncommon to have furniture pieces made completely with wormy maple. Wormy maple holes are left behind by  the ambrosia beetle. When the beetle bores into the wood it leaves behind a fungus that causes dark streaks in the grain. For many years wormy maple was used in furniture frames and never seen. However, with the growing popularity of character grades, wormy maple has become a favorite and is no longer considered character grade.
Walnut
This is one of the more expensive woods. It has been prized for its beauty. There are subtle variances in the grain, and the color is hard to beat. Walnut has a range of colors from brown tones and chocolate to an occasional purple hue. Walnut is a heavy, dense wood and is quite durable. Character grades make walnut much more affordable.
Hickory
Hickory has a wide variance of color. It has been used for years due to its strength and durability. Hickory flooring has been a popular choice for that reason. Light stains are often used to show off the beautiful grain and knots. It's no wonder each piece of hickory furniture is as unique and individual as you.
Quarter Sawn White Oak
Often referred to as "tiger" oak. Many antiques you'll find are made from quarter sawn white oak. To get this tiger stripe effect, logs are cut across the grain to expose this unique "tiger" stripe. As a result, fewer pieces of wood are harvested from the same log. This slowed its use until now. Due to well managed woodlots, quarter sawn white oak is back. It's a heavy and durable wood. Character grades can also make quarter sawn white oak much more affordable.
Elm
If you like the look of quarter sawn white oak, then wait until you see elm. It has a heavier, more dramatic grain than oak. Elm has become increasingly popular and is often paired with other wood species for dramatic effect. Elm is difficult to work with due to its strength and hardness. Because of this, elm is similar in price to cherry.
Whatever you choose, you'll find that hardwood furniture will last a lifetime or longer. To see all your choices, come into Rogers City Home Furnishings. We'll help you find the style, color AND hardwood, perfect for your home.