The ABCs to Buying a Sofa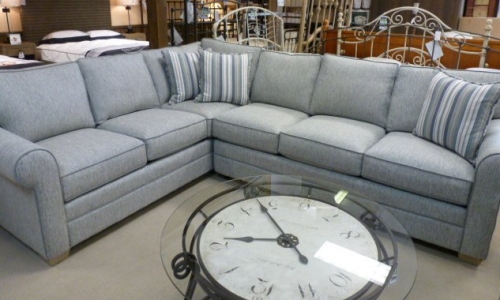 There are many factors to consider when choosing a sofa, and as the most essential piece of furniture in your home, it's important to choose it carefully. Consider size, style and shape, functionality and comfort as you look for the right sofa for you, but most of all ensure you have confidence in choosing a retailer.
Below is a guide to help you shop for a new sofa. Rogers City Home Furnishings carries a number of highly respected American-made brands whose quality and reputations have kept them in business for decades. We are confident we can aid you in finding the perfect sofa to meet your family's needs and complement your home's décor for years to come.
 Size
Before you begin shopping, measure your room to see how much space you have. The room's shape, as well as the location of windows, doors, fireplaces and stairs might set some limitations to the amount of space you have for your new sofa.
 Style and shape
Consumers have a variety of choices when it comes to shapes and sizes. The kind of sofa you need can depend on your family size and how often you entertain. Additionally, sofas come in a variety of configurations, from the traditional shapes and sleeper sofas to sofas with built-in recliners, sectionals, and conversation sofas – which are slightly curved to allow more face-to- interaction between people seated on the same piece of furniture.
In terms of style, there are a variety of choices when it comes to the arms, seat cushions, seat backs and legs on a sofa. Additionally, when customizing a sofa, you can often choose a wood color on the legs and other wood trim and add nail heads in a variety of finishes.

Functionality
Consider how you want to use your sofa. Some individuals want a sofa that doubles both as a sofa and recliner, or an occasional bed. Certain sectional sofas can be configurable, and often you can add an ottoman that can serve as footrests, have storage space, or double as a  cocktail surface.
Fit and Comfort
Another important consideration is how you sit. Assess the seat height, depth of the seat cushion, as well as the height of the backrest, as these have an impact on your sitting position, and always make sure the seating has enough space for laying comfortably. The materials in the cushions and frame mean that firmness may differ, so try them out and see what suits you.
Material
The material you select will not only add to the look of your sofa, but it will also function as a protective layer. Some manufacturers offer materials that are stain resistant or easily washable for active households. Full grain leather is a long-lasting material, and some manufacturers  offer "leather-look" sofas as well.
Manufacturer Reputation
Although your primary interaction will be with the retail furniture store staff, it's important to inquire about the company making the furniture. Key considerations are how long the company has been in business, what kind of warranty they offer on various components, and customer testimonials.
Customer Service
Finally, it's important to trust your retailer. While problems may be unlikely, when they occur you want the confidence in knowing your sales staff will go the extra mile to ensure you are satisfied with your purchase.