Your Guide to Buying a New Mattress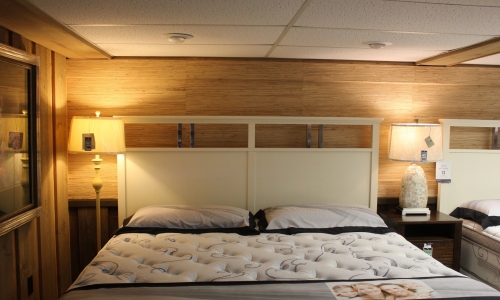 When you consider that humans spend an average of one-third of their life asleep, it's clear that there is no piece of furniture that is more important to your overall health and well-being than a comfortable mattress that allows you to get a restful night's sleep.
Roger City Home Furnishings carries only one brand of mattresses – Capitol Bedding – for several reasons. Primarily, we believe when it comes to craftsmanship, price and quality, Capitol Bedding mattresses are second to none. Additionally, like Rogers City Home Furnishings, Capitol Bedding is a customer-centric, family-owned Michigan-based company that has been around for decades a sure sign of a company that offers great products and service at a fair price.
Lastly, experience and reputation are paramount. Capitol Bedding has cultivated strong relationships over three generations, and its products can be found in fine hotels around Michigan – including the Grand Hotel on Mackinac Island, which has purchased their products for more than 40 years.
Construction
Capitol Bedding is unique in its industry when it comes to its manufacturing process. The company makes its own vertical-cross slat frames for strength and durability, with a goal to create a foundation to last longer than traditional box spring frames. It is uncommon to find another manufacturer who makes similar frames due to the extra time and care required in this process.
In addition, the company hand-tufts its mattresses, which provides a more luxurious bed. Tufting is truly a lost art in mattress-making, but a tufted bed is quite simply a better bed.
Safety is a primary concern in the manufacturing process. Capitol Bedding mattresses are constructed of CertiPUR-US® foam which has been fully tested to be free of formaldehyde, heavy metals, phthalates. Additionally, these mattresses feature low VOC emissions for indoor air quality assurance and use water-based glues that are Greenguard Certified to have low chemical emissions and contribute to the healthier indoor air.
Every single mattress model we carry at Rogers City Home Furnishings has a specification sheet detailing exactly what is inside. We encourage anyone looking at our mattress line to review the specification sheets and comparison shop for peace of mind.
Mattress Shopping Tips
It is important to do some research to learn about the various types of mattresses available in the market before you visit a store, so you go in with an idea of the size and type of mattress you prefer; however, be open-minded to alternate options.
Common versions are memory foam, gel, innerspring, pillow tops and traditional two-sided mattresses, and all of these have unique features and are suitable for a variety of sleeping habits and preferences. Rogers City Home Furnishings offers more than a dozen models in sizes ranging from twin, twin XL, full, queen, king, to California king.
There is no substitute in mattress shopping for lying down on various mattresses to find a product that best meets your needs. Wear comfortable clothing and shoes you can slip off. Spend at least 5 or 10 minutes on each side and in your usual sleeping position. Provide  the salesperson with information about the bedframe you are using as well as room size  to ensure the mattress width and length is a good fit.
Do not be afraid to ask questions about the construction and materials. More than likely, it has been a while since you purchased a mattress, and salespersons are knowledgeable about the distinctive styles, features and materials that may be new since you last shopped for a mattress.
Understand the warranty on the mattress you are buying. Capitol Bedding's products are guaranteed against defect in materials or workmanship for the number of years stated on the mattress label. Should it fail under normal use and service due to these causes, Rogers City Home Furnishings will assist you in determining if your issue warrants a repair or replacement.
Care and maintenance
Once you get your new mattress home, it is important to remember that the guarantee is not an indication of how long the product should be used. It does not cover loss of comfort or support and stains of any kind will void the guarantee. We highly recommend using a quality mattress protector to protect from any stains. In addition, mattresses have become very thick and plush over the years, and you may see more "body printing." This is acceptable and will not affect the comfort or support; however, having a proper bed frame and rotating your new mattress will help minimize the this.
Most importantly, if you have any questions prior to shopping or after buying a new mattress from Rogers City Home Furnishings, please remember our staff is always happy to assist you!